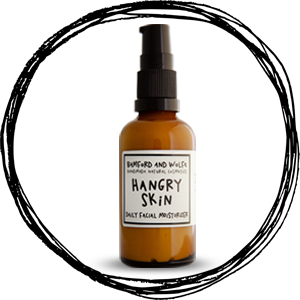 HANGRY SKIN – DAILY FACIAL MOISTURIZER
Does your skin get hangry for moisture? It's time to feed your skin before it gets hangry, tired and grumpy looking! Hangry Skin is all about moisture – formulated for all skin types and is free from fragrances, essential oils, colors and anything that might upset your skin. Now let's talk benefits – Hangry Skin helps regulate moisture levels and guards the skin against environmental pollutants while slowing multiple signs of aging. The truth is if you want to keep your skin youthful for longer, you must moisturize! Hangry Skin will keep those moisture hunger pains at bay while giving you consistent healthy and radiant skin day or night. Whatever your needs Hangry Skin has you covered by helping form a protective barrier over the skin to lock in moisture and prevent dryness, fatigue and most importantly hangriness! Keep a bottle of this around and you'll always look your best!
Ingredients
Aqua, Shea Butter, Coconut Oil, Jojoba Oil, Plant Derived Waxes: (Cetearyl Alcohol, Cetearyl Olivate & Sorbitan), Vegetable Glycerin, NatraColl (Hydrolyzed Soy Protein, Rice Amino Acids, Hydrolyzed Adansonia Digitata Seed Extract, L-Proline), Daikon Seed Extract, Vegetable Emollient: (Isopropyl Myristate), Natural Preservatives: (Dehydroacetic Acid & Benzyl Alcohol)
2oz.