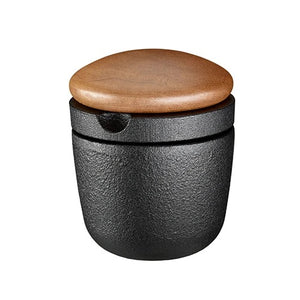 Skeppshult's 100 yr old foundry produces professional-grade cast iron cookware with the high quality iron ore produced right at home in Sweden. Over its generations of expertise, Skeppshult has perfected the shapes of their cookware, as well the sand molds' unique composition to withstand the high temperatures and provide the right structure to cast the iron. While a sand mold can only be used once to cast each piece, the sand is recycled into new molds in a sustainable cycle of production. Skeppshult's cookware and spice grinders with European walnut accents are both functional and heritage pieces to last a lifetime.  
Item Description: Cast iron herb and spice grinder to be used with dried herbs and dried spices. Walnut lid with silicone seal, round bottom. Pyramid shaped grinding surfaces. Top part with compartment for spices. Inside is seasoned with natural Swedish organic canola oil. Outside is treated with a black lacquer surface to avoid staining.
Materials: Cast iron, Walnut, Silicone
Dimensions: H: 2.75"x Ø: 2.5"
Weight: 1.3 lbs
Care Instructions: Brush debris with soft brush or cloth. If washing is needed, dry immediately over the stove. Do not put in dishwasher. 
Made In: Sweden