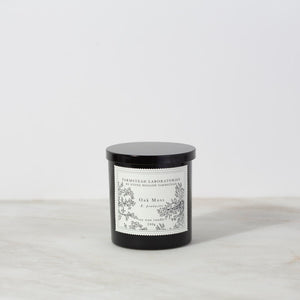 Extracted from the dark green lichens of the Evernia prunastri, is an elusive menagerie of moss, wood, decaying leaf, fungus, lichen, and damp earth notes. Earthy opening and smooth, rich finish. Hints of galbanum's bittersweet green and balsamic undertones coupled with the coumarin notes of freshly cut hay. Oak moss delivers an olfactory journey from the deep secrets of the forests. The elements have absorbed and are enhanced by the simple existence of different organisms housed in the dampness of the forest. This perfectly planned existence makes oak moss as a whole greater than the sum of its parts—complex, beautiful, and iconic.
Aromatherapy mood/mind benefit | Rich, Sweet-Balsamic, Faintly Floral
100% soy wax blended with essential oils, aroma compounds and premium fragrance oils. Can be used as a massage oil once wax has softened.
Use // Turn candle upside down. Place flame under candle so flame goes directly upwards to wick. Once a candle is lit, return to the normal position to avoid dripping wax.